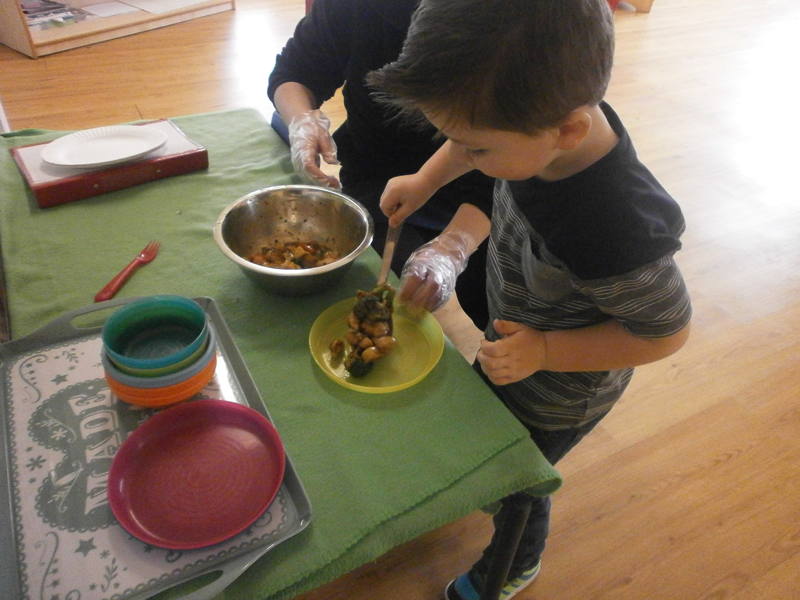 You can be assured that your child receives well balanced and nutritious meals at our Cheshire Day Nursery.  All meals are freshly prepared on site and we support the 5 a day eating regime.  As we have a trained cook on site we can cater for all dietary and religious meal requirements too.  If you would like to discuss your child's dietary needs, please contact our Cheshire Day Nursery here.
Nurseries are being told not to give dried fruit, such as raisins, during snack time and only give processed meat, such as sausages, once a week.
The Department for Education (DfE) has given out guidance as well as menus and recipes on healthy, tasty meals for children in early years settings.
Nurseries are advised to offer fruit and vegetables throughout the day, choose bread with a lower salt content and limit canned pasta in sauce.
Nurseries are also told to limit processed meat such as sausages and meatballs and processed fish such as fish fingers and fish cakes to once a week.
Robert Goodwill, Minister for Children and Families, said: "A good early education is vital to set every child on the path to fulfilling their full potential, and getting healthy, balanced food during the day is an important part of high-quality childcare.
"Providers can use these menus to create appealing meals for young eaters - which any parent with small children knows can be a challenge. I have seen for myself what an important role caterers and kitchen staff have in the settings I've been able to visit, so I'm pleased that these new resources can now help them in their work."
The resources have been jointly developed by the Department for Education, the Department of Health and Public Health England, with advice from a panel of early years and nutrition experts including the British Nutrition Foundation.
Public Health Minister Steve Brine called the new guidance "yet another positive step in our world-leading Childhood Obesity Plan—which includes taxing sugary drinks, helping children to exercise more and cutting sugar and calories in food before it reaches consumers".
Too many children are starting school overweight or obese and Public Health England (PHE) believes early years settings play an important role in helping children to develop good habits and avoid poor health later in life, with Dr Alison Tedstone, chief nutritionist at PHE, saying: "We hope early years providers embrace this guidance and play their role in supporting the health of future generations."
Michael Freeston, director of quality improvement at the Pre-school Learning Alliance, part of the initiative's expert review group and a founding partner of the Early Years Nutrition (EYN) Partnership, believes "the viewpoints of settings and experts across the sector, will prove welcome additions to the excellent food already being served in the majority of settings".
He added: "Nutrition in the early years is so important to ensuring young children go on to live healthy lives and is a vital part of cognitive development. We hope that these menus will become a cornerstone of the daily life of settings across the country, something the Alliance will be working to support member settings to achieve."
PACEY (Professional Association for Childcare and Early Years) also helped to develop the guidance and sample menus. Its chief executive, Liz Bayram said: "We are delighted the guidance has finally been issued but recognise it will only go so far in improving children's early nutrition.
"This is because many settings face the implementation challenges of 30 hours of funded childcare. This funding doesn't include the cost of meals and snacks and, whilst some settings are providing these freely, many are having to charge families. Some families facing financial constraints could be forced to choose a packed lunch instead, an option that evidence suggest is less nutritious than a regular cooked meal."
Parents can also use the resources to help them prepare healthy, balanced meals at home and introduce their child to new foods.